About Us
La Casa de los Cuervo is very close to celebrating its 100th birthday! Construction began in early 1917 and features many fine, French-influenced details. Containing spacious and bright rooms, with four meter high (13+ feet) ceilings, which together with strikingly-detailed doors and windows, and grandly tiled floors in their perfect, original state, makes this home impossible to forget.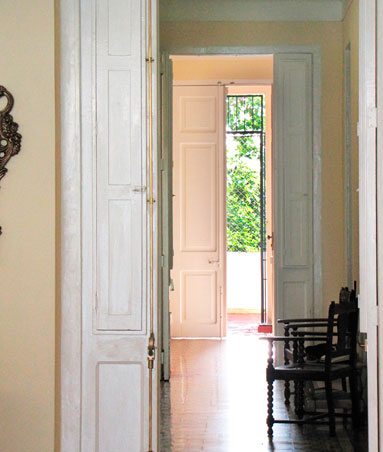 The main charm of the House of Cuervo resides in the respect paid to the original architecture combined with a simple and cozy ambiance, based on a mixture of modern elements and antique decor. You can count on many amenities and services, and we assure you the personalized attention that will make your stay an unforgettable experience.
The main living rooms consist of two spacious yet cozy lounges where you can enjoy the warmth of the house. In these rooms you can enjoy a natural fruit juice or an aperitif before dinner, or where you can enjoy a quiet read enlivened by the sounds from a 1940s turntable.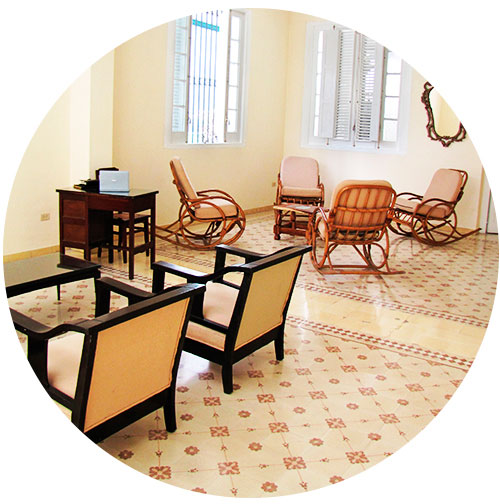 The home has two wonderful terraces on the ground floor, an ideal place to enjoy breakfast or to simply relax, surrounded by tropical plants and rocking chairs in a typical Caribbean ambience.
The dining room is dominated by a mirrored cabinet containing china and glassware used by the original Cuervo family and former occupants. In this pleasant space, you can also enjoy breakfast made to order in the typical Cuban cuisine style.
It has 6 spacious bedrooms each with private en-suite bathrooms, all bright, quiet and in a cozy atmosphere. Each of the private bedrooms are unique in architectural detailing and décor, and each uniquely pays homage to one of the six provinces of the island.
The home proudly features original and exclusive paintings and sculpture throughout the home from Cuban artist, Annery Velasco.